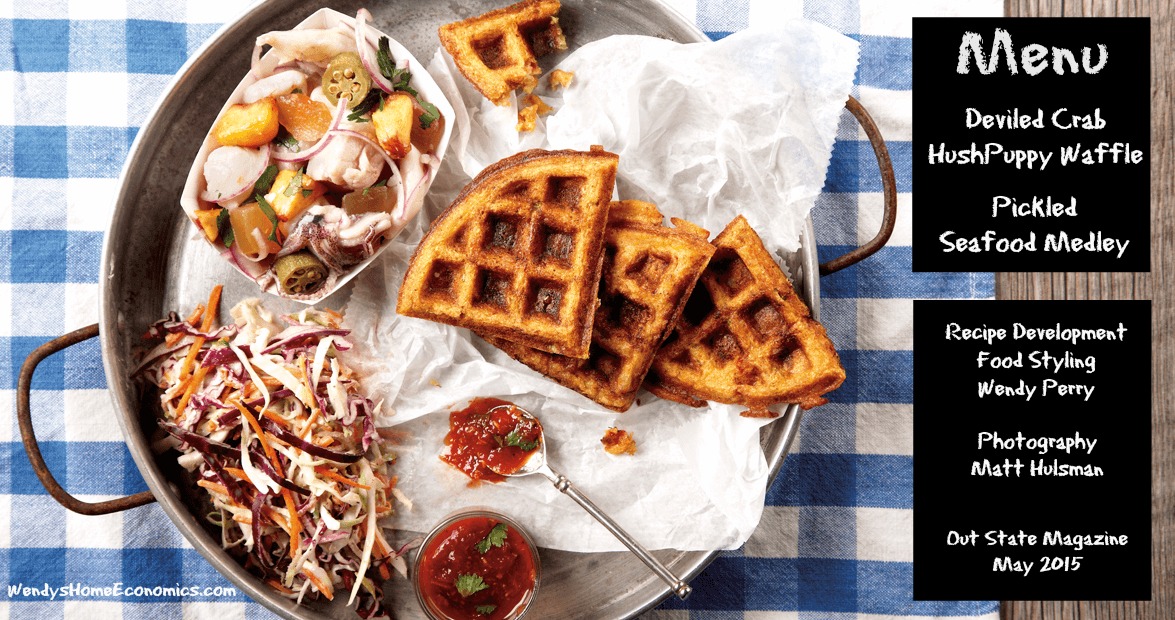 Published in Our State Magazine May 2015
A few years back, when I was at Our State Magazine, the idea was tossed about to create a newfangled version of the seafood platter. Now we all know that our traditional seafood platter will always take top billing, but it was fun to imagine something outside the box.  Hence… these 2 ideas.
First up, my Crab Hushpuppy Waffle!  This is really quite delicious. It's basically deviled crab, fried crispy in a waffle form.  I have made these waffles several times since creation, and always enjoy them; y'all know I love any things crispy. They are nice with a creamy sauce for you Ranch Dressing folks… or with something a little sweet and spicy too, like a hot pepper jelly.  These are fun to make ahead for a crowd… and pair nicely with cold beer.  You can make/freeze and heat up in your oven or quickly in toaster oven for your gatherings. Serve with one of the above ideas, or with cocktail or tarter sauce.
Next up… Pickled Seafood Medley ~ a sort of ceviche! This one is for those who enjoy raw/pickled fish and seafoods.  I like on occasion, but not my personal first choice.
I hope you will enjoy these… do come and join in the conversation on my fun facebook community!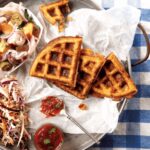 Deviled Crab Hushpuppy Waffle
Fluffy on the inside, crispy on the outside, this is the best crab hush puppy you've never had — no frying necessary.
Course:
Appetizer, Breads & Cornbreads, Brunch, Fun Food!, Main Course, Side Dish, Supper
Cuisine:
American, Seafood, Southern
Keyword:
crispy, deviled crab, fish tacos, watermelon, pico de gallo, seafood, hushpuppy, waffle, waffle iron
Ingredients
2

cups

hushpuppy mix

1/2

teaspoon

onion powder

1/2

teaspoon

garlic powder

1/2

teaspoon

freshly cracked black pepper

1/2

teaspoon

cayenne pepper

1/2

teaspoon

seafood seasoning

1/2

teaspoon

sea salt

1

egg,

beaten

2

tablespoons

sunflower oil

(I like Carolina Gold Oils)

1/2

cup

finely diced celery

1/2

cup

finely diced red bell pepper

1/2

cup

finely diced sweet onion

1

cup

club soda or seltzer

1/2

cup

cooked lump crabmeat
Instructions
In a medium bowl, mix dry ingredients. In another bowl, stir together remaining ingredients except crab.

Combine wet and dry ingredients and stir to blend. Gently fold in crab. Let mixture sit for 10 minutes while the waffle iron heats.

Preheat waffle iron on highest setting. Once heated, grease the iron with cooking spray to prevent sticking. 

Spoon mixture onto hot iron, spreading into a thin layer with the back of a spoon. Close iron and check at 5 minutes. Cooking times will vary depending on waffle irons. 

For softer, cake-like waffles, remove and keep warm in oven when lightly browned (about 5 minutes). For crispier waffles, spread batter thinner and cook longer, until a dark chestnut brown (about 10 minutes).
Recipe Notes
When making for a crowd, preheat oven and baking pan to 250º. As waffles are done, place on baking pan in warm oven. Waffles can be made ahead of time, frozen, and heated in the oven or toaster oven.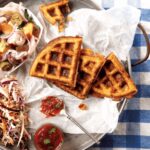 Pickled Seafood Medley
North Carolina flavors — peaches, pickles, and local seafood — get the South American treatment in this Southern twist on ceviche.
Course:
Brunch, Main Course, Supper
Cuisine:
American, No Cook, North Carolina Goodies, Summer Food
Keyword:
ceviche, fish, mahi, north carolina seafood, scallops,, seafood, seafood cocktail, shrimp, snapper, tuna, watermelon rind pickles
Ingredients
2

pounds

resh fish and shellfish, such as medium cleaned shrimp, bay scallops, squid, and firm fish (such as tuna, snapper, mahimahi, or sea bass),

rinsed and cut into ¼-inch cubes

1/2

cup

freshly squeezed lime juice

1/2

cup

pineapple juice

1/4

cup

pickle juice

2

tablespoons

local honey

Sea salt and freshly ground black pepper to taste

1

tablespoon

 pickling spice,

tied in cheesecloth

1/2

cup

diced watermelon rind pickle

1/2

cup

okra pickle,

sliced into ¼-inch rounds

1

medium

red onion,

thinly sliced

1

large

peach,

peeled and diced

1

medium

jalapeño pepper,

seeded and thinly sliced

1/4

cup

chopped fresh parsley
Instructions
In a nonreactive (glass or stainless steel)bowl, combine lime juice, pineapple juice, pickle juice, honey, salt, pepper, and pickling spices to create a brine.

Put fish and seafood into large nonreactive bowl. Pour brine over seafood. Cover and refrigerate for 8-12 hours, until the seafood is firm and opaque. The brine will "cook" the seafood, but if preferred, blanch before adding the brine.

About 2 hours before serving, stir in pickles, vegetables, fruit, and parsley. Serve chilled and keep cool.
Recipe Notes
Always use fresh, clean seafood. Choose fish that's mild and not too strong-tasting