Recipe published in Carolina Country Magazine ~ October 2017
Happy #ClamChowderDay!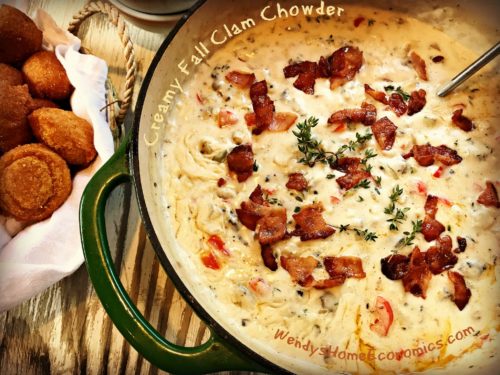 Now I realize it's not "Fall," but this creamy chowder is perfect to serve year round… when you've got a hankerin' for some.  If you're not a "clam digger," just sub shrimp or crab… or even fish, in this recipe for an equally tasty bowl of yumminess.
The chowder comes together really fast… it will probably take you longer to prep the ingredients than it will to actually "cook" it.  You can multitask and be cutting your veggies while the butter melts.  
Be sure to make some of my Sweet Potato Hushpuppies to enjoy alongside this chowder too.  
Once you make some, do come find the post about it on my facebook community and add your comments!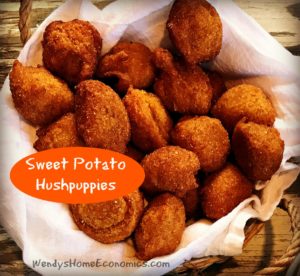 Creamy Fall Clam Chowder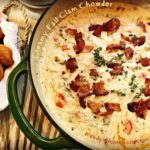 As the days grow shorter and cooler, a mug of this clam chowder will warm you from the inside out. Gather friends, start a Sunday Supper Soup Group and bring this to the table for accolades all around! Although this chowder is great any time of the year. Sub other shellfish or fish for the clams if preferred for a shrimp, crab or fish version.
1 cup butter
2 cups thinly sliced shallots
4-5 stalks celery, (diced)
2 red bell peppers, (seeded and diced)
8 ounces portabella mushrooms, (chopped)
2 tablespoons garlic paste
1/3 cup all purpose flour, ((more if you prefer thicker chowder))
several turns freshly ground black pepper
1 tablespoon white pepper
6 cups milk
6 cups half and half
3 tablespoons fresh thyme, or 1 teaspoon dried thyme
5 10 ounce cans clams with juice
salt to taste, ((taste at the end))
8 slices bacon, (cooked and crumbled)
Melt butter in a heavy pot over medium heat. Sauté shallot, celery, red peppers and mushrooms until tender. Stir in garlic. Add flour and black & white peppers.
Cook 4–5 minutes, stirring often to incorporate flour. Whisk milk and half & half into flour mixture until smooth. Add thyme and clams.
Simmer until slightly thickened being careful not to boil. Taste and add salt as needed. Garnish with crumbled bacon and sprigs of thyme.