Published in Carolina Country Magazine ~ September 2018
It's hard to beat a good old meatball. Meatballs are such a basic, simplistic food, and can be made with all sorts of ingredients. There are even vegetarian "meatballs," which to me, should be illegal. If there's no meat, there's no MEATball. But that's neither here nor there.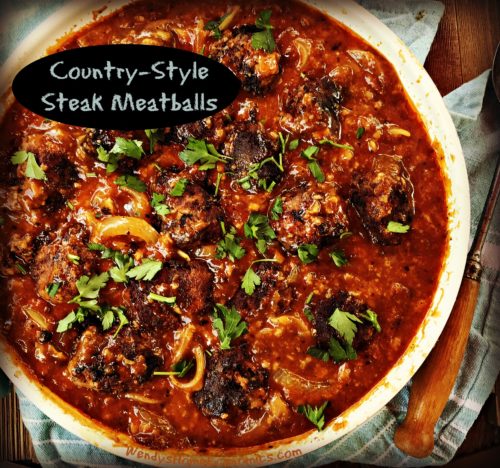 When creating new recipes, I strive to come up with ideas not already "out there" in the internet universe… a feat often difficult to do. So when I set out to create a good ole comforting meatball, I googled myself silly to find a "country style steak" meatball. And couldn't.
There are a gazillion of "salisbury steak" meatballs… but not "country style steak." And as I pondered the differences, I researched the best I could… but there's virtually nothing defining "country style steak." It seems to be mostly a southern dish… and while CSS is made with only beef, Salisbury steak is typically a blend of ground meats.
Since none of that really makes no difference, I'm not spending any more time pondering on this subject!
I forged ahead, creating my Country Style Steak Meatballs for Carolina Country Magazine last year. You will find them to be moist and tender… full of flavor, and so easy to make. Most kiddos love making meatballs, so get them to help you… please nurture your little culinarians! Teach them… so when out in the real world, they'll be able to eat and cook.good.food!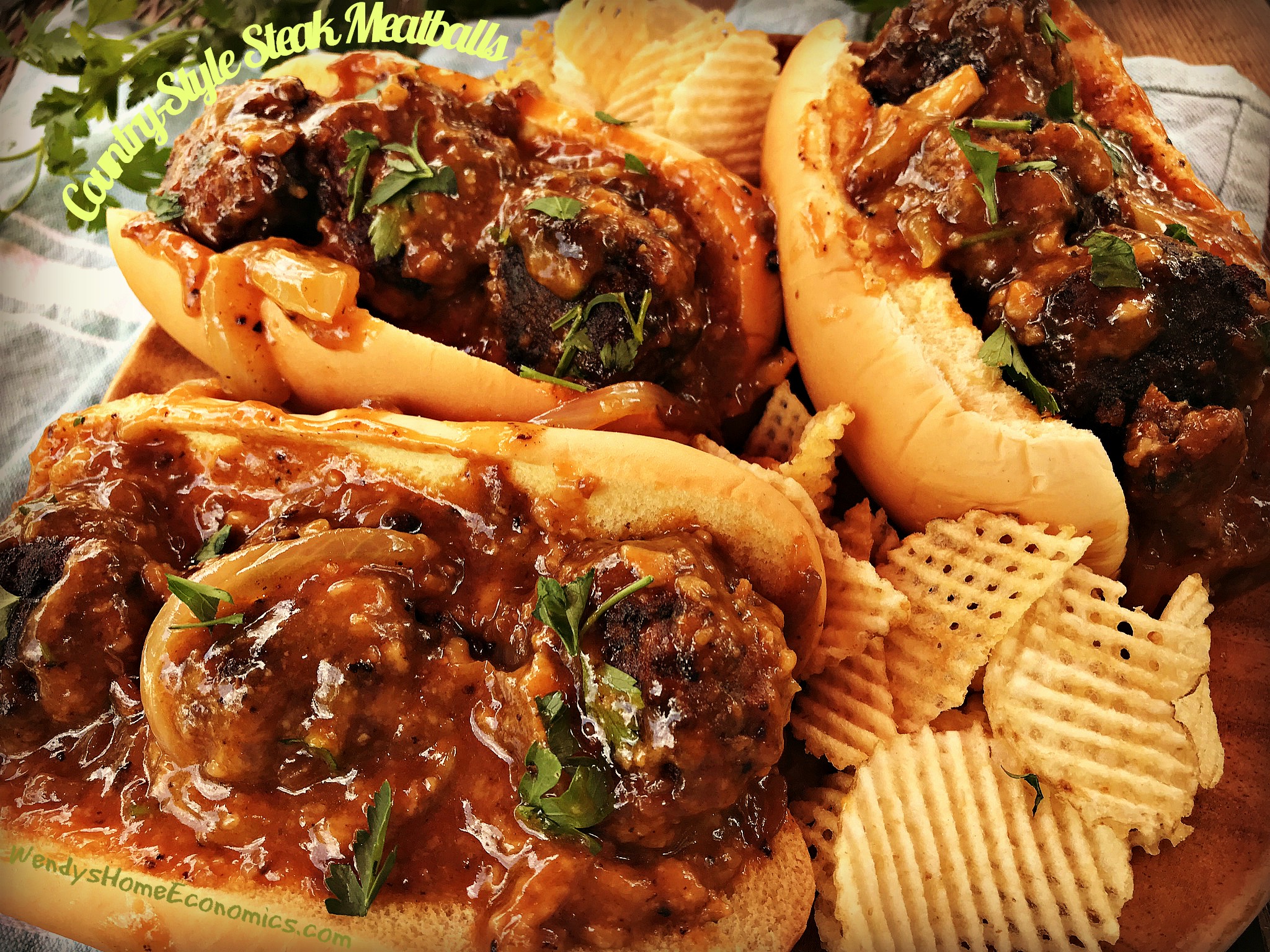 I encourage you to make a batch. You will love them. Your kiddos will love them.
They do need watching over while cooking, so while that's happening, busy yourself and multitask, slicing and dicing and prepping for other meals! And before you know it, your scrumptious meatballs will be done… and you'll be steps ahead with other meals for the coming days! Come over and join my facebook community too…
These freeze great also. Just put onto a baking pan and sit into the freezer. Once frozen, bag the meatballs to take out what you need. (This is great for picky little ones that like them without the gravy… instead of buying those pre-made ones with all sorts of crazy ingredients.)
Enjoy these meatballs in a variety of ways… whatever suits your fancy.
Alongside mashed potatoes

Spooned over creamy grits

In toasted sub rolls

Tucked into slider rolls with cups of gravy for dip'n

Over egg noodles

In lettuce wraps

Country-Style Steak Meatballs with Onion Gravy

These meatballs are loaded with flavor and so versatile. Enjoy on subs, over buttery mashed potatoes or in creamy grits.

Ingredients

2 ½

pounds

ground beef

1

cup

diced onions

½

cup

chopped parsley

1

cup

bread crumbs

1

egg,

slightly beaten

3

tablespoons

worcestershire sauce

3

tablespoons

spicy brown mustard

¼

cup

ketchup

2

teaspoons

salt

2

teaspoons

black pepper

TO FRY:

1

cup

flour

oil for frying,

your preferred

GRAVY:

1

large

sweet onion,

thinly sliced

1

10.75 ounce can

French onion soup

1

10.75 ounce can

golden mushroom soup

½

can

water

Instructions

Combine meatball ingredients and mix well. Chill for about an hour to let flavors meld. Using damp hands, make ¾-inch meatballs.

Heat about ¼-inch deep oil in skillet to medium heat. Dust meatballs in flour and fry until browned and fully cooked, about 15 to 20 minutes. Remove and keep warm.

Toss onion in remaining flour, shake off excess and sauté in oil, scraping up browned bits. Once golden, dab any excess oil with paper towel. Add soups and water; whisk to combine with onions until smooth.

Place meatballs into gravy and coat. Garnish with parsley and serve.

Notes

Serving suggestions:

Spooned alongside mashed potatoes
Spooned over creamy grits
In toasted sub rolls
Tucked into slider rolls with cup of gravy for dip'n
Over egg noodles