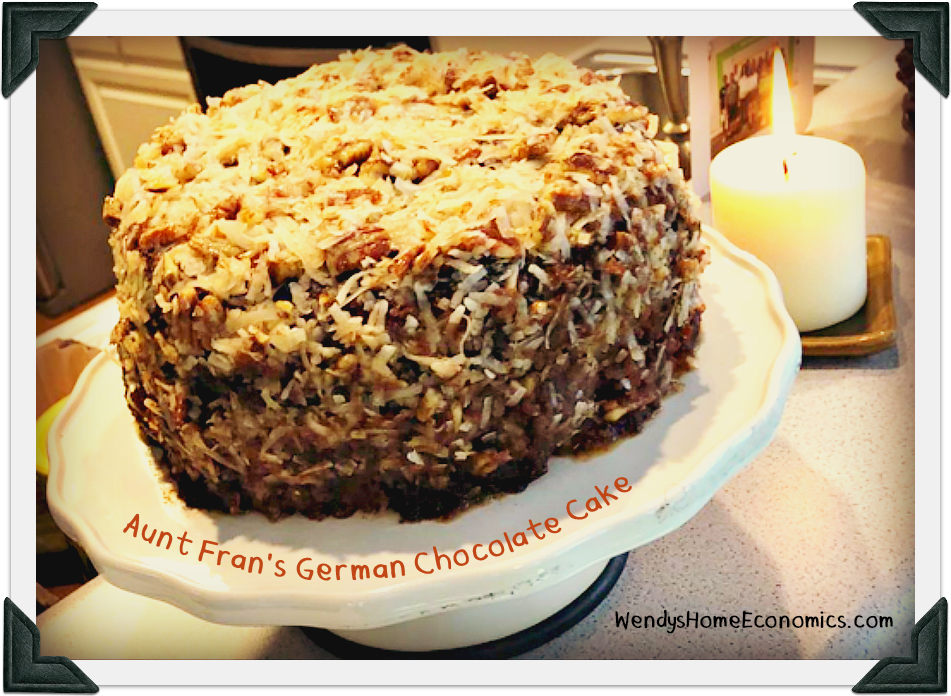 In honor of #NationalGermanChocolateCakeDay today, I'm sharing my Aunt Fran's recipe.  She made a gazillion of these over the years and it was always one of the first to go at our church homecoming days. Some of us would go get dessert first to assure we got some before everybody else hit that table. 
I don't have a really great picture. Actually, my sister, who does little cooking, made this one last year and snapped this picture. Even my cousins couldn't find a picture of their mama's delicious cake. So just know it's delicious! 
Fortunately, I have her recipe preserved in a cookbook of Perry family recipes I compiled decades ago.  I'm so glad Aunt Fran shared her recipe with me way back then… so I can share with you!
DO make one… and if you do, send me a picture and I will add it here.
I hope you have a Happy German Chocolate Cake Day!  What a great thing to celebrate…
Come over and join the fun on my facebook page where I've shared this recipe today.
Aunt Fran's German Chocolate Cake
The delicious homemade German Chocolate Cake is, as they say, fit'n!
Ingredients
CAKE
4

ounce bar

German chocolate

½

cup

boiling water

1

cup

butter or margarine

2

cups

sugar

4

egg yolks,

unbeaten

1

teaspoon

vanilla

2 ½

cups

sifted cake flour

½

teaspoon

salt

1

teaspoon

baking soda

1

cup

buttermilk

4

egg whites,

stiffly beaten
COCONUT-PECAN FROSTING
1

cup

evaporated milk

1

cup

sugar

3

egg yolks

½

cup

margarine

1

teaspoon

vanilla

1 ½

cups

coconut

1

cup

chopped pecans
Instructions
CAKE
Melt chocolate in boiling water; cool.

Cream butter and sugar until fluffy.

Add egg yolks, one at a time; beat well.

Add chocolate and vanilla; mix well.

Sift flour, salt and soda together.

add alternately with buttermilk to chocolate mixture; beat until smooth.

Pour into 3 deep 8" or 9" was paper lined baking pans.

Bake at 350 for 30-40 minutes. Cool.
COCONUT-PECAN FROSTING (makes 2 1/2 cups)
Combine everything except coconut and nuts in a saucepan. Cook about 12 minutes over medium heat, stirring constantly as this will scorch easily.

Remove from heat and beat in coconut pecans. Beat until thick enough to spread on layers and side of cake.