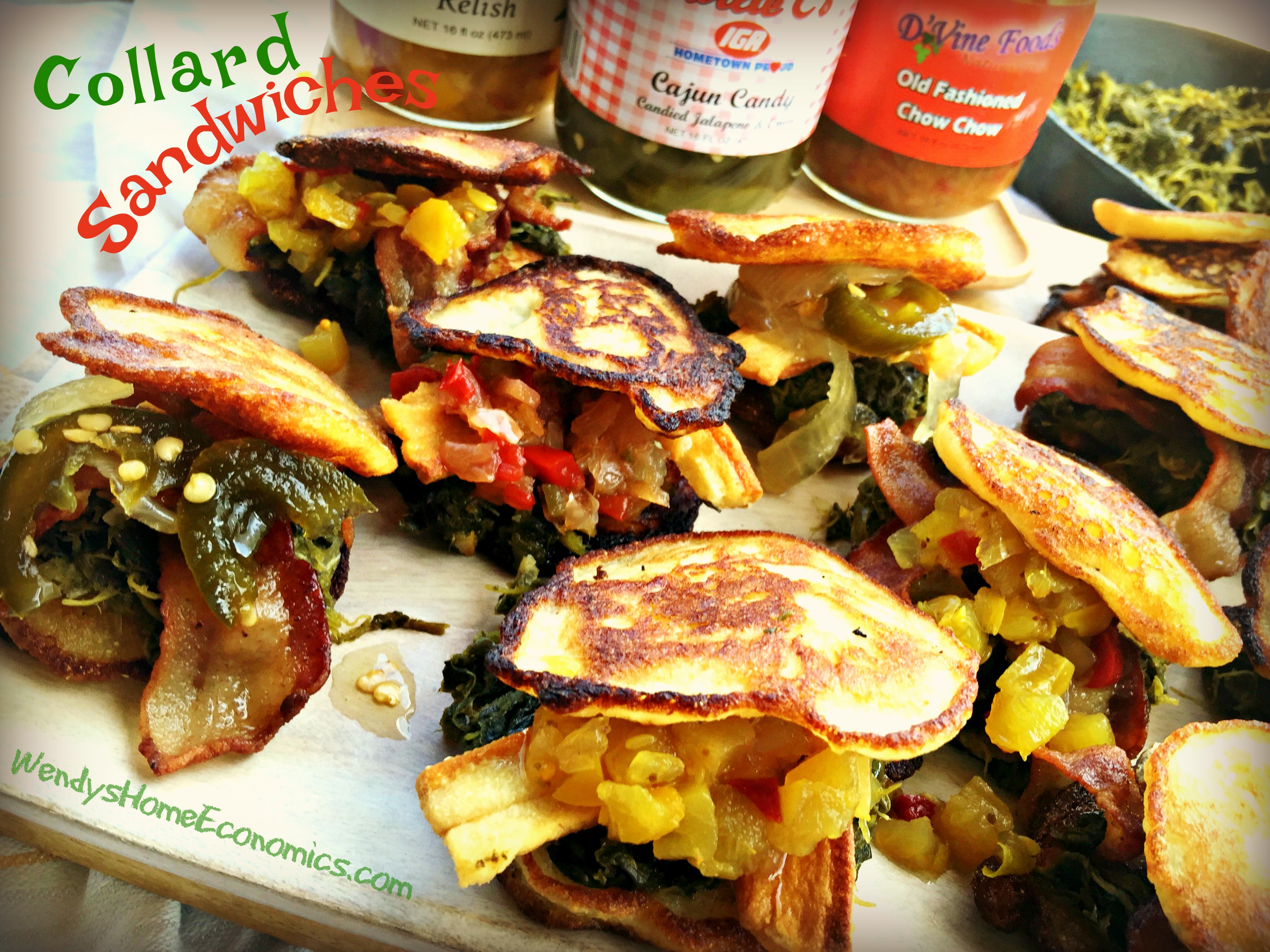 My "cabbards" (collards) recipe was published in Our State Magazine in February 2015.
I can't think of any better time to make up and serve a batch of good old collard sandwiches than for New Year's Eve or New Year's Day gatherings.  I have been making these things for long as I can remember… decades… before I knew they were a "thing."  In the past few years, they have been written about and "symposed" about in magazines and southern culinary events.`  You will find stories in Garden and Gun and NC's Our State Magazine, where my own collard recipe was featured a few years back.
I didn't realize until today that I've never put a dedicated tale here about collard sandwiches… after getting a call to make 50 for a friend for her NY Eve gathering tomorrow night!  So here it is.
When I take these things to pot lucks or serve at my own gatherings, they are the first things gobbled up.  And I always think "I should have made MORE."  There's just something about the combination of southern favorites…
crispy onion-y and barely sweet "cornbread cookies" as I call them… with my bacon-y "cabbards" tucked inside with that salty slice o'fatback. Sometimes I also make some with streak 0'lean and bacon.  And alongside, I put out some candied jalapenos and a southern MUST, some good chow chow… for folks to dollop on as they grab 'em. I also love a smear of pepper jelly too.
I have, on occasion, picked up some store-bought candied jalapenos, usually from Carlie C's, and sometimes, I make my own and you can too… just get some store bought sliced jalapenos… around here, I mostly use NC's own Mt. Olive!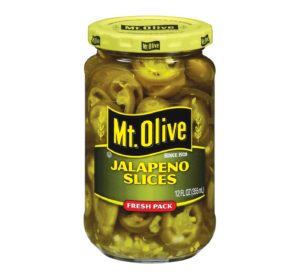 Drain out most of the juice (sit to the side), then heave in some sugar. A lot of sugar. As much as you can. Because the peppers sucking in all that sugar is what "candies" them!  And this is good too… "melt" some pepper jelly in the microwave for a few seconds and pour that into the peppers… with a big ole spoonful of honey. Shake that around, then start adding the sugar.  Lort have mercy they're GOOD on so many things! 
I tell ya, molasses butter is rightly fine on collard sandwiches too.  Just swirl some molasses into some softened butter… voila, Molasses Butter!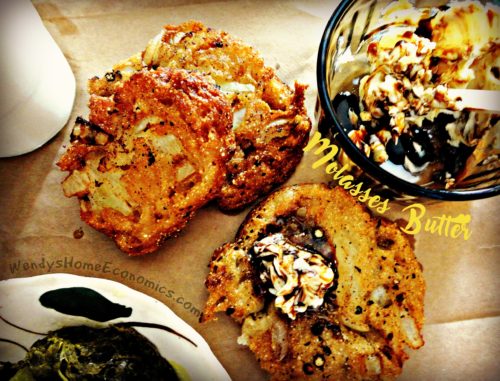 So to make collard sandwiches, you just need to have some real good collards cooked and ready. This is not a quick process. I have been known to cook up a 100 pounds at the time to stock my freezer like a squirrel hoards acorns!  My collards (aka "cabbards") took years to perfect, but are really pretty simple to do. Cook your own, or grab from your favorite home cook'n restaurant or BBQ joint!  My favorite "store bought" are Uncle Bob's from Carlie C's! And I do use them when I haven't had time to cook some… usually cooking some cabbage to add to them!  If you want to cook some of my "cabbards," (my combination of collards and cabbage), read all about them here!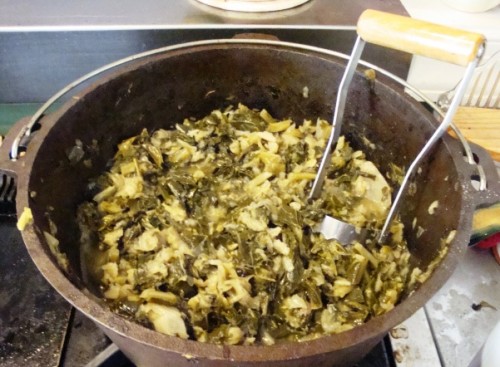 Next, fry up the meat!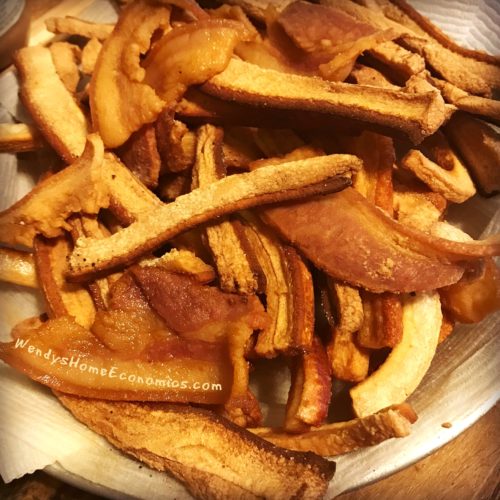 Finally… the cornbread cookies…    Published in Carolina Country Magazine January 2019! 
Wendy's Crunchy "Cornbread Cookie" Crisps
I'm a crispy crunchy gal, and that's how I want my cornbread. Thin... lacey sometimes... oh goodness! Eat as is... add in diced green onions... cheeses... just make some. Be sure to use seltzer water too. The "fizzy" in that helps with the crunch factor.
Ingredients
your favorite hushpuppy mix,

I prefer with onion (usually House Autry)

finely diced onion, green onion or chives

seltzer water

black pepper

a tad of sugar,

optional

oil for frying
Instructions
Put hushpuppy mix into a bowl. Use package amounts to guide you for how much according to how many you want to make.

Add onion and seltzer water, again, according to package directions. Add a little more to have a thin batter (for thin,, crispy lacey crisps). Stir in black pepper and a little sugar. Taste the batter for preferred sweetness.

Stir and let sit 5 minutes while oil is heating.

Heat oil to medium high heat.


Put heaping tablespoons of batter into hot oil and spread out with back of spoon to thin. Cook until lightly browned on first side, turn and repeat on the other side. Drain on wire rack.
Once you have everything ready, lay crisps out on a baking pan. Top each with a dollop of collards, piece of meat and top with another crisp.  Serve at room temp or warm in chafing pan.  Sit out candied jalapenos, chow chow, pepper jellies and molasses butter for guests to fix as they like!
That's some mighty fine eat'n right there.  So whether for supper at home or party time, you can't go wrong serving collard sandwiches! 
Y'all enjoy… and Happy New Year!
May you all have a blessed 2019!
And P.S. Jump over and like my facebook page… goodies posted there that aren't my my e-zine newsletters.
Wendy
And hey… don't throw away the BONUS of cook'n those collards!
POT LIKKER… oh YES puh-leaze!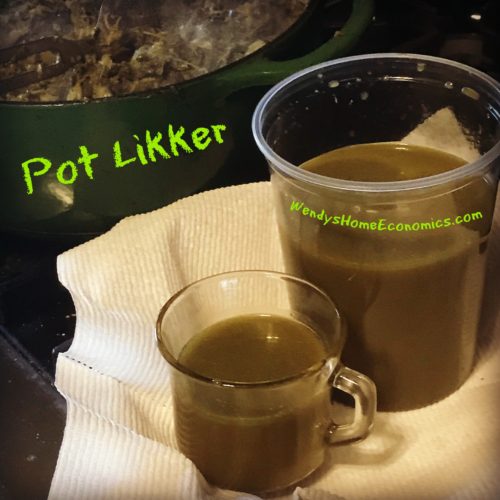 Cornbread recipe created for and published in Carolina Country Magazine _Januar 2019
Food propping/styling and photography © (copyrighted) by Wendy Perry.
Carolina Country Magazine Contributing Recipes Editor
Disclosure:  I only use and recommend products here I use myself. I may receive a small commission from affiliate links on this or other posts on this web site at no additional costs to you.
CLICK HERE TO SUBSCRIBE TO MY TABLE SCRAPS E-ZINE NEWSLETTER!
Find me on social media:
Wendy's HOME Economics! Page on FB    @culinaryadventuristwendy on IG
Aunt Dee Dee's Kitchen Page on FB            @auntdeedeeskitchen on IG
Credentials @ LinkedIn
Be sure to visit my online stores:
Aunt Dee Dee's Kitchen for my seasonings, dried goods, pickles, jams, preserves, kitchen linens and more! Lots of new goodies in 2022.
And for the best budget-friendly MADE IN THE USA by folks like you and me, my Rada Knives and Kitchen Tools online store.
THESE LINKS CAN ALSO BE FOUND ON SIDE MENU OF MY BLOG HOME PAGE.