We have had well more than our desired share of snow this winter here in central North Carolina. Sitting here watching the pretty snowflakes and dozens of birds grazing, I try to enjoy the moment while feeling the dread and impending doom of the sleet/freezing rain on our doorstep. Once that arrives, our fluffy snow will be just ruined for any good snow cream but I did throw together a couple of new goodies this afternoon.
You'll need a batch of my Snow Cream Custard "sauce" for starters. From that, you will be able to make the "CheeseCake Snow Cream" and the "Krispy Kreme SnowKake" too. So here you go… a quickie post with today's frozen goodies… including "SnowMaRita Shots!" If you are in the path of this storm… stay in, stay safe and stay warm!
Gather a bowl of fluffy snow. Drizzle with some of my Snow Cream Custard "sauce." Start with small amount…you can always more as needed to thicken. Sprinkle with some Jello Instant Cheesecake Pudding Mix. Whirl into custard. Let sit in bowl about 5 minutes (sit back outside the door!) so pudding mix will dissolve. EAT!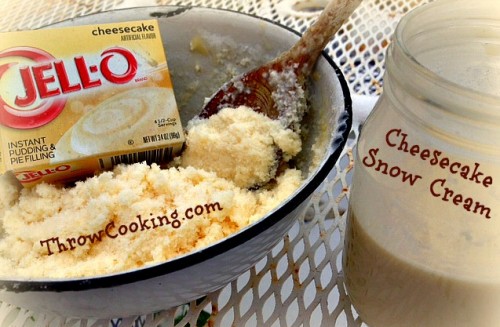 Warm a Krispy Kreme doughnut in a bowl. Top with Wendy's Snow Cream Custard or also just as good, some of the Cheesecake Snow Cream! Add a dollop of whipped cream, and a bright red cherry!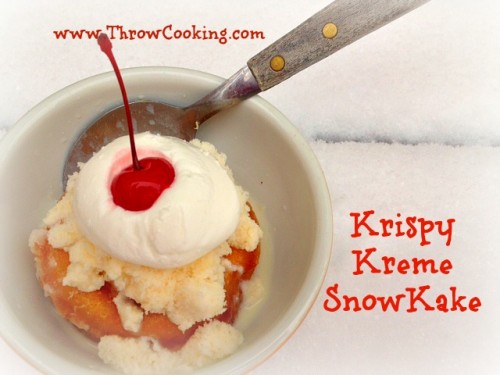 Shake some Lime Jello powder into a bowl of fluffy snow. Whisk around to mix and let the jello dissolve. Grab your best top shelf tequila (that you already put out in the snow to chill). Serve as shots with a shot o' lime ice or throw together and enjoy sip'n together!