Posts Tagged by
boiled custard
Being that today is "National Doughnut Day," seems fitting to share one of my Krispy Kreme Kreations with you.
It just so happens that my lastest, krunchy Cinnamon-Butter Krispy Kreme Kroutons, is one of four North Carolina food icons I got to blab about in the November issue of Carolina Country Magazine. I chose Krispy Kreme as one of the four for a couple of reasons. For starters, when talking about iconic foods here in North Carolina, KK is at or near the top of any such list. KK is also celebrating a milestone birthday this year… their 80th! I even made this scrumptious sundae with KK Kroutons and Kookies to celebrate.
I've been making these blissful little krouton morsels for years, just never got around to sharing until now! You can make 'em in no time flat, but be warned.
Nobody can eat just one, or 10, so make a big old mess of them! Folks love to munch on "kroutons" right out of the bowl, but I enjoy on top of Ma Perry's Boiled Custard, a Perry family tradition that started before I came along… a long time ago.
I do hope you will make some kroutons, and come back to let me know what you think… I'm pretty sure you will be the Kueen if you serve up a pile of these sometime soon.
Don't you think KK should bag my kroutons too?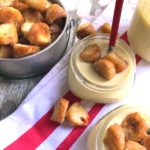 Cinnamon-Butter Krispy Kreme Kroutons
Krispy Kreme "Kroutons" are a fun treat by themselves, but floating in boiled custard to enjoy at the bottom of your cup is good, too!
Ingredients
6

Krispy Kreme Doughnuts,

1

stick

butter.

melted

3/4

teaspoon

cinnamon
Instructions
Using kitchen scissors, cut each doughnut into 12 "coins." Spread cut pieces out on baking pan and let air dry, uncovered, overnight.

Preheat toaster oven or oven to 350 degrees. Melt butter in microwave and stir in cinnamon. Toss "kroutons" in bowl with cinnamon butter. Bake about 5 minutes, tossing as needed, until golden brown.

Cool and store in airtight container.
Recipe Notes
Variation... Instead of cinnamon, use other spices or blends, like Apple Pie or Pumpkin Spice.
So, what are your ideas for using Krispy Kreme Kroutons?
Do tell…
As far back as I can remember as a little girl, I have fond memories of our big Perry family gatherings… my FAV being at Christmastime. I had one hellofa good cook'n grandma Perry, who we grandchildren call "Ma Pur." Although not rich folks, I suppose back in those days, they may have been considered by some to have a lot. She was a retired school teacher, and Daddy Pur owned the Pearces community store. It was one of those stores that had a little of this, that and the other. My older girl cousin Karen and I would "play grocery store"…. even back then I LOVED grocery shopping as I still do. Daddy Pur would let us "shop" in the store, then we would bring our groceries up to the counter where he would ring them all up. Then, we'd have to go put them all back where they came from!
While we were doing that, a posse of old men (that wouldn't seem so old now!) would be gathered around the wood stove, playing Rook, or Checkers. I still love to play Rook, and I learned watching the best… a "fierce" Rook player is mildly describing my "style" of Rook play'n. You don't hear tell of Rook much anymore, so if you read this and are a Rook player, let me hear from you!
Daddy Pur's store was 1/2 the community centerpiece. The other half was right across the road… Pearce Baptist Church! I grew up in that church and my sweet mama played the organ there for 36 years… rarely missing a Sunday and one of the few was the Sunday before she sailed away to Heaven. When she was so very sick with Ovarian Cancer, one of the few things she wanted to eat in her final months was this protein filled custard. Mama would ask me to make her some and when she couldn't keep anything else down, she stayed nourished with Boiled Custard. She especially loved it frozen like ice cream. This, and baked skillet cornbread, were what kept her going near the end.
OK… back to my story!
While Daddy Pur was busy out at the store selling groceries and farm supplies, Ma Pur was busy next door cook'n… they had 5 children… 4 boys and 1 girl. Daddy Pur died when I was only 4, but I do have a few memories of him. Ma Pur was around until I was 12 so I do have a few memories of her kitchen. She cooked 3 meals a day… and there was always a big plate of biscuits on the table and soft butter to mash together with molasses. All those Perry children and their children would gather at the homeplace at Christmastime. I could hardly wait, because there would be pitchers of Boiled Custard that she had made. She served it with a big bowl of sweetened strawberries she had "put up" the summer before from her garden. I really didn't even want to eat any of all that other food she had made, I just wanted BOILED CUSTARD! And although daddy's brothers and sister have their own grown children with their children now and we no longer gather, getting in my kitchen to make this takes me back to those days so long ago when the excitement and magic of Christmas was such a happy time and place. My sweet nephew Wyatt is nine now, and tonight we talked about making Boiled Custard for Christmas. I hope he keeps this family tradition alive for generations to come.
I cannot believe in all my pictures there are none of boiled custard, so I'll fix that this year. I'll be sure to come back after Wyatt and I get in the kitchen next week and make this Christmas' batch of this yummmy stuff! (post edited… picture added below)
Until then, enjoy the recipe and a few old pics to take us down Perry Memory Lane.
This is my Ma and Daddy Pur (Perry). Daddy Pur died when I was four, so I think this was his last Christmas. This is a VERY RARE picture of him because he isn't wearing his Fedora. I always heard that if his hat was dipped to the left, leave him be. But if tipped to the right, all was well.
A few decades ago, I put together a Perry family cookbook. I vowned not to publish it until every single Perry in our clan contributed at least ONE recipe… and for the wee ones, a drawing of some food. It took a spell, but finally accomplished this goal. This is the cover of that book…
And this is one of my fav pictures that's on the back of the book. Few folks are lucky enough to have three other living generations to be able to have a picture like this… me, daddy (Hal), Ma Perry and her mama, Mammy Chamblee!
As far as I know, this is the only place Ma Pur's Boiled Custard recipe is published. And although it may be "the" recipe of many other ladies of her time, for me, it's My Ma Pur's recipe…and there are few things better!
Do you like Boiled Custard? Was it part of your family's goodies growing up? If so, please share your BC memories in the comments box…
…Enjoy, and Merry Christmas Y'all!
Family traditions…. we don't have too many in my family, but I'm planning to pass this one along to Wyatt, starting with our first time making it together this year… oh, how I do love this little fellow!
Ma Pur's (Perry) Boiled Custard
What to throw together...
1/2 gallon whole milk
2 tall cans Pet milk
1 1/2 cups sugar
10 medium or 6 large eggs
vanilla extract
How to throw together...
Over double boiler in thickest pot, add milk and sugar. Stir constantly until the mixture reaches ALMOST boil (but never boil).
Stir rapidly and add eggs that have been pureed until foamy in blender. Let come to a boil.
Turn heat to medium. Continue to cook for about 45 minutes or until the custard coats a metal spoon.
Remove from heat. Add 1 tablespoon vanilla extract and more sugar if needed.
Cool in freezer until freezing begins around edges.
Once chilled and thickened, pour into pitcher or small jars for gifting.
OPTIONAL: Offer a bowl of sweetened strawberries to swirl into custard.
Recipe Copyright Wendy L. Perry, Inc. 2010. Share with credit/linkback please.