Being that today is "National Doughnut Day," seems fitting to share one of my Krispy Kreme Kreations with you.
It just so happens that my latest, krunchy Cinnamon-Butter Krispy Kreme Kroutons, is one of four North Carolina food icons I got to blab about in the November issue of Carolina Country Magazine. I chose Krispy Kreme as one of the four for a couple of reasons. For starters, when talking about iconic foods here in North Carolina, KK is at or near the top of any such list. KK is also celebrating a milestone birthday this year… their 80th! I even made this scrumptious sundae with KK Kroutons and Kookies to celebrate.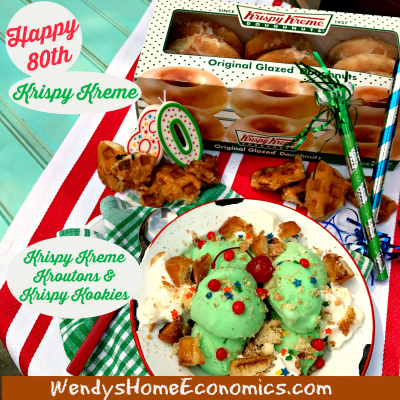 I've been making these blissful little krouton morsels for years, just never got around to sharing until now!  You can make 'em in no time flat, but be warned.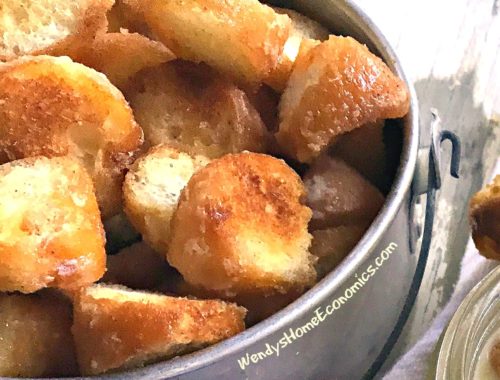 Nobody can eat just one, or 10, so make a big old mess of them! Folks love to munch on "kroutons" right out of the bowl, but I enjoy on top of Ma Perry's Boiled Custard, a Perry family tradition that started before I came along… a long time ago.
I do hope you will make some kroutons, and come back to let me know what you think… I'm pretty sure you will be the Kueen if you serve up a pile of these sometime soon.
Don't you think KK should bag my kroutons too?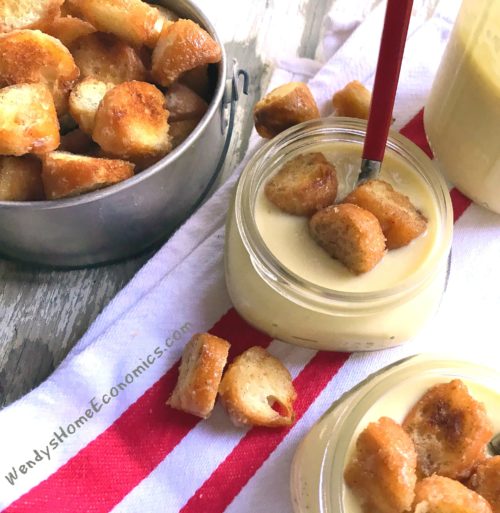 This recipe created for and published in Carolina Country Magazine November 2017.
Food propping/styling and photography © (copyrighted) by Wendy Perry.
Carolina Country Magazine Contributing Recipes Editor
Disclosure:  I only use and recommend products here I use myself. I may receive a small commission from affiliate links on this or other posts on this web site at no additional costs to you.
CLICK HERE TO SUBSCRIBE TO MY TABLE SCRAPS E-ZINE NEWSLETTER!
Find me on social media:
Wendy's HOME Economics! Page on FB    @culinaryadventuristwendy on IG
Aunt Dee Dee's Kitchen Page on FB            @auntdeedeeskitchen on IG
Credentials @ LinkedIn
Be sure to visit my online stores:
Aunt Dee Dee's Kitchen for my seasonings, dried goods, pickles, jams, preserves, kitchen linens and more! 
And for the best budget-friendly MADE IN THE USA by folks like you and me, my Rada Knives and Kitchen Tools online store.
THESE LINKS CAN ALSO BE FOUND ON SIDE MENU OF MY BLOG HOME PAGE.
Cinnamon-Butter Krispy Kreme Kroutons
Krispy Kreme "Kroutons" are a fun treat by themselves, but floating in boiled custard to enjoy at the bottom of your cup is good, too!
Ingredients
6

Krispy Kreme Doughnuts,

1

stick

butter.

melted

¾

teaspoon

cinnamon
Instructions
Using kitchen scissors, cut each doughnut into 12 "coins." Spread cut pieces out on baking pan and let air dry, uncovered, overnight.

Preheat toaster oven or oven to 350 degrees. Melt butter in microwave and stir in cinnamon. Toss "kroutons" in bowl with cinnamon butter. Bake about 5 minutes, tossing as needed, until golden brown.

Cool and store in airtight container.
Notes
Variation... Instead of cinnamon, use other spices or blends, like Apple Pie or Pumpkin Spice.
So, what are your ideas for using Krispy Kreme Kroutons?
Do tell…