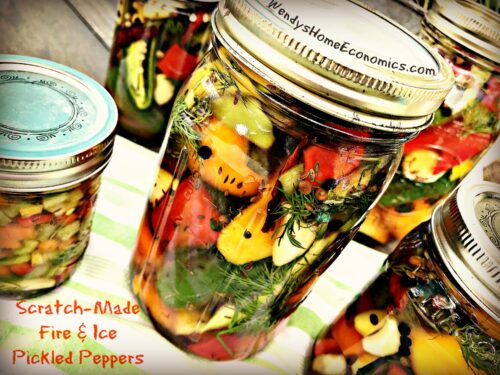 Published in Carolina Country Magazine July 2018
Tis the season when home gardens and farmers' markets overfloweth with so many summer favorites, peppers being no exception! I love peppers of all sorts… just not TOO hot for me. So versatile, there's not much you can't do with peppers.
This recipe is so simple and small adjustments can make yours as hot as you like. If there are those in your world that don't care for the heat, just make some jars hot… and some not.
Do make some of these pickles. They will be a nice fresh treat during winter months… on holiday and football-watching appetizer tables. Great to take along to fall tailgates too when you don't want to worry about keeping foods at safe temps. Even novice pickle makers like me can do these!
Scratch-Made Fire & Ice (Dilled) Pickled Peppers
Novice pickle makers will feel accomplished by making these sweet and hot dilled pickled peppers! A great way to preserve summer's bounty of peppers to enjoy all year long.
Ingredients
4

cups

white vinegar

4

cups

water

4

cups

sugar

8

cups

assorted peppers*

2

cups

garlic cloves

fresh dill springs

4

tablespoons

dill seed,

crushed

4

tablespoons

black peppercorns,

divided

4

teaspoons

salt,

divided

4

teaspoons

crushed red pepper,

divided
Instructions
Heat vinegar and water to low boil. Add sugar and stir to dissolve.

Poke holes in smaller peppers with toothpick. Pack peppers, garlic and dill sprigs into quart jars. Add 1 tablespoon dill seed and peppercorns, and 1 teaspoon of salt and crushed red pepper to each jar. 

Ladle warm brine over peppers. Cover and shake well. 

Refrigerate up to 2 months. Best if made several days before first use.

Or, process for pantry shelves.
Notes
*Leave smaller peppers whole and slice others into strips.