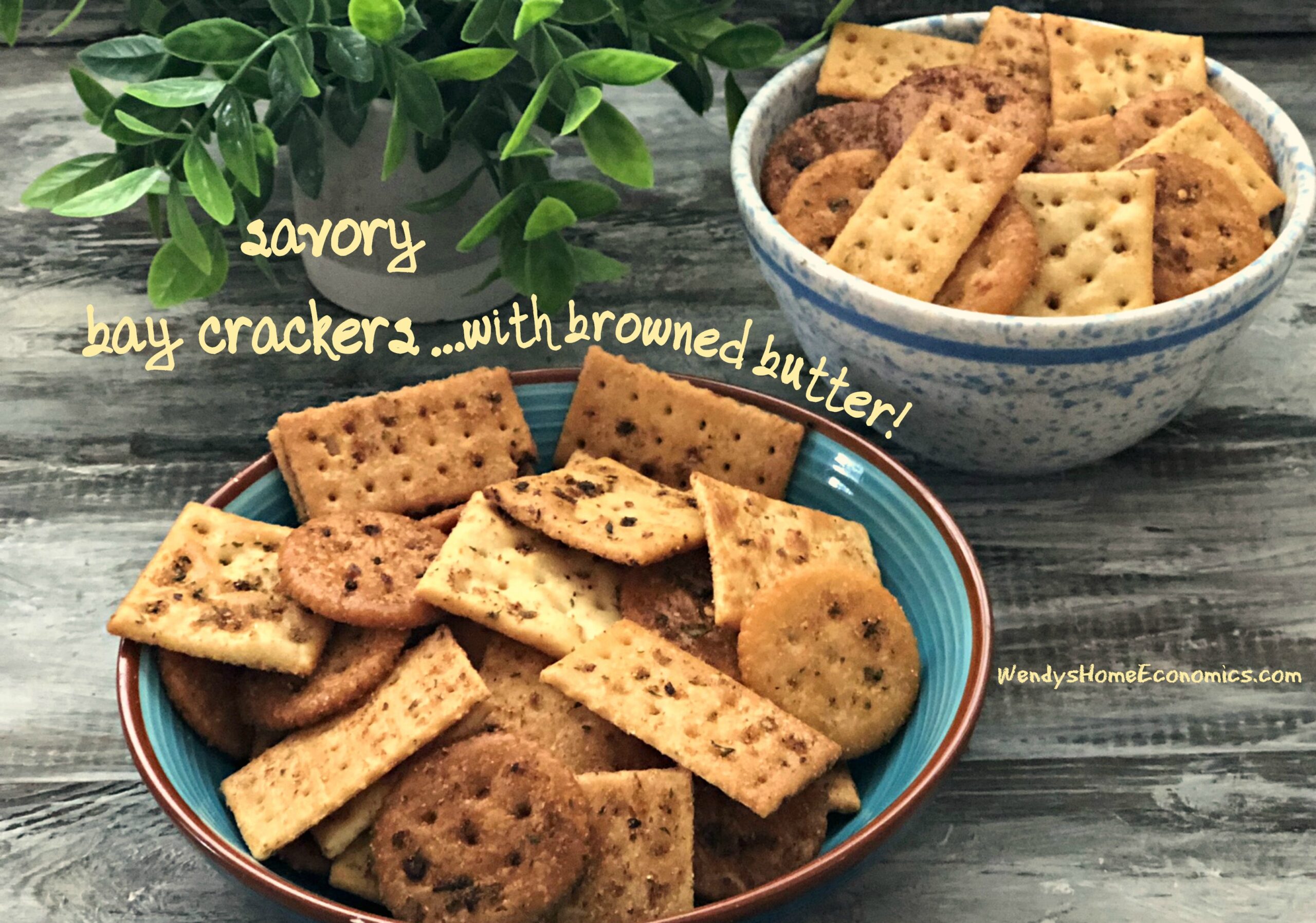 Published in Carolina Country Magazine July 2020
Sometimes, you just need a little "something something" to go alongside a dish.  My Savory Bay Crackers with browned butter are that "something."  I created them to enjoy with my Spicy Citrus North Carolina Seafood Cocktail, but they are just right for serving with soups, stews, chowders… or just plain ole nibbling.
You can use one kind of cracker… or do like I did. Use some of those packages of this, that and the other from my pantry shelf. Actually, I kinda prefer having a variety like this instead of just one or the other.  And don't they look snazzy all jumbled up like that?  
They will keep just fine for a spell too, as long as you keep them stored in an airtight container.  And they are real good with a bit o'butter smeared on top.  Tasty with cream cheese and pepper jelly as well.
No matter how you want to eat them, just make some.  And come along on over to my fun facebook community where you will find this and all sorts of other stuff.
Savory Bay Crackers with browned butter
Browning the butter releases a whole new depth of toasty, buttery flavor in these crackers. Seasoned with a touch of Old Bay, they keep perfect company with our Seafood Cocktail — and with soups, salads or as a snack. 
Ingredients
1

pound

unsalted butter

16

ounces

crackers (like saltines, crispy round and club-type)
SEASONING MIX
1

tablespoon

coarse sea salt

1

tablespoon

dried parsley

3

tablespoons

brown sugar

2

teaspoons

garlic powder

2

teaspoons

onion powder

½

teaspoon

cracked black pepper

½

teaspoon

crushed red pepper

2

teaspoons

old bay seasoning
Instructions
For the browned butter, heat butter over medium heat in a heavy bottomed sauce pan, whisking and watching closely as it melts. Continue heating for about 6–7 minutes until butter smells toasty and has turned golden brown. Remove from heat and set aside. Cool to room temperature.

Preheat oven to 325 degrees.

Combine seasoning mix and add to browned butter. Stir to mix well.

Put crackers in a large bowl. Pour seasoned butter over crackers, and gently toss with hands for about two minutes to make sure the crackers are well coated. Put in a large baking pan (I used a foil, lasagna-sized pan). Toast in oven for about 25 minutes, gently stirring every few minutes. Let cool before storing.

Keep in airtight container up to a week.