Over 3+ decades of catering, I did many a party of every description… for young and old alike! When my friend Jim called me to throw a surprise 50th for his wife, we talked about several themes, and ended up doing a variety of fun stations and bars, each features local and NC products. There was a hot dog bar, hot and cold corn on the cob station, pickle tub, pimento cheese and field pea caviar area and for dessert… a blueberry and strawberry shortcake bar too. Since there was a bunch of kiddos coming, he wanted something fun for them, so I did a great big table of old fashioned candies, peanuts and all sorts of popcorns with spicy shakes for those who wanted theirs spiffed up a bit.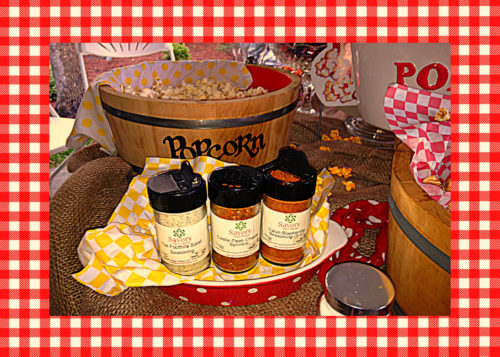 Since Sunday was "National Business of Popping Corn Day" (and forgot to post this then), I figured this would be a good time to share this popcorn bar! With the holidaZe on the way and gatherings of friends and family, this would be a fun, budget-friendly and quick idea for your entertaining…
Folks of all ages love popcorn and vintage candies. Just keep it simple… pop corn or buy it in a big old tin… add some kettle, caramel and candied corns. See what you have in your spice cabinet, or pick up some fun salts and seasonings. I'm a big fan of Savory Spice Shop and shop often at the Raleigh location, but they have other stores all over. Or you can just shop online and have goodies sent right to your door!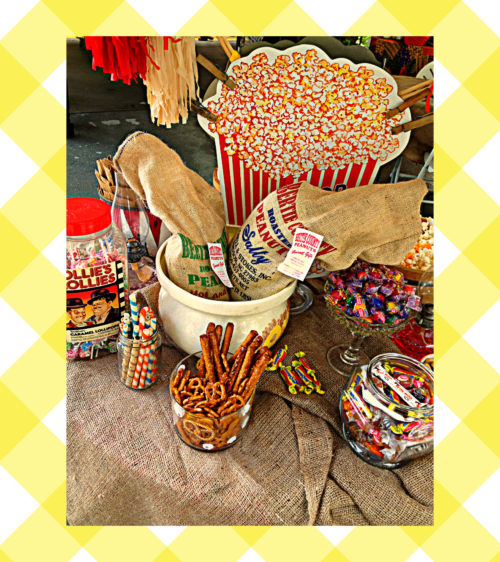 Throw a sheet of burlap or something festive over a table… sit boxes of various heights up under there so you can put your containers at different levels on your table! If it's in a dark corner, don't forget to sit a lamp on the table. The light will give your display a "pop" and draw folks to it.

TIP: Do that with all your tables! Lighting creates beautiful ambiance for your food displays, not to mention, it helps your guests see what they are getting in dimly lit areas.

It's also helpful to make little folded cards to sit by your foods for that same reason. You can make with stickers right onto notecards or any number of ways.
Pick up some festive "take home bags" for folks to take a goodie bag with them so you're not stuck with leftovers…
Enjoy your holiday season, and have FUN! If you do a popcorn (or any other) bar, please do snap a picture and send me! I'd love to share your ideas here with others.