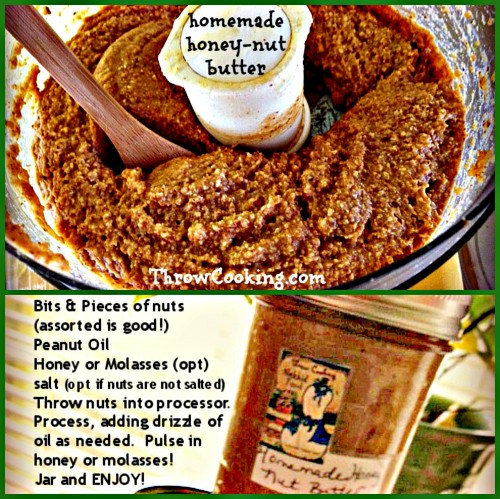 During our most recent snow "event" last week,  cabin fever set in.  So instead of being lazy like I did in the storm 2 weeks before, I hopped up off my buttkus and got productive around the house!  I have an awesome pantry that from time to time, gets in total disarray.  Little pantry devils come during the night and make the biggest mess you've ever seen.  So last week, I had to get in there and fix the mess those little demons had made.
I love nuts… and like to keep some in the truck for a quick snack when out and about…. keeps me out of those drive thru junk food places and they offer me a quick heaping of protein to tide me over till I'm home.  So I end up with bits and pieces of this, that and the other kinds of nuts from assorted companies… mostly from friends here in North Carolina… like Baker's, Mackey's Ferry, Bertie County, American's Best Nut Co and others.  Since y'all know me to be a "throw cooker," you know I threw all those nuts together.  There were VA blistered nuts, some salted nuts and some not, a menagerie of almonds (skin on, sliced, slivered), cashews and dry roasted.
So this morning, I threw them all into the food processor.  As they whirled around, I drizzled in a little peanut oil.  I also had a tidbit of local honey in a jar so I finished that off too, and drizzled that in while the nuts whirled about.  Since some of the nuts were salted, I didn't need to add more.  I like creamy peanut butter and I also like it crunchy, so I pulsed mine to something kinda in-between the two.
And that was that!  I cleared out about 6 cans, jars and bags of bits and pieces of nuts along with that jar of honey that needed to be out of the way for a new jar.  And what did I end up with?  Three half-pint jars of the BEST NEKKID clean peanut butter… if you've never made your own nut butters, do!  You'll never go back to store bought again… you'll have just plain, natural butter without all those chemicals, preservatives and SUGAR you buy at the store.
Just look at the ingredients on the label of perhaps the most popular national brand you may have on your shelf… corn syrup solids AND sugar!  I added natural sugar with the honey… and you can too!  So had you rather eat and feed your family my recipe of…
just nuts, peanut oil and honey, or THIS: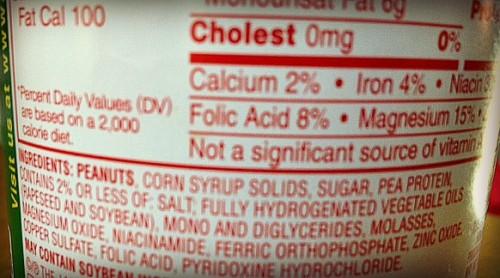 And… you can make it just the way YOU and your family like it.  If some like it crunchy, just take some out of the processor and make a jar of crunchy.  And for those who like it smooth, just keep whirling in the processor until nice and creamy.  Make it plain, with honey, or like I do sometimes with a tad of molasses.  You can even spice it up as you like by adding things like a touch of cinnamon, or stirring in some mini chocolate chips.  This is a great food to get the kiddos into the kitchen to have fun and make some good "whole" some peanut butter.  (Not to mention that the whole process took me about 5 minutes, from getting processor out, adding ingredients, whirling and spooning into jars.)
Here's to pantry purging and reinventing goodies with all the tidbits of "stuff" you find in there.
I hope you will make some of your own NEKKID peanut butter… and come back and share it here with us…