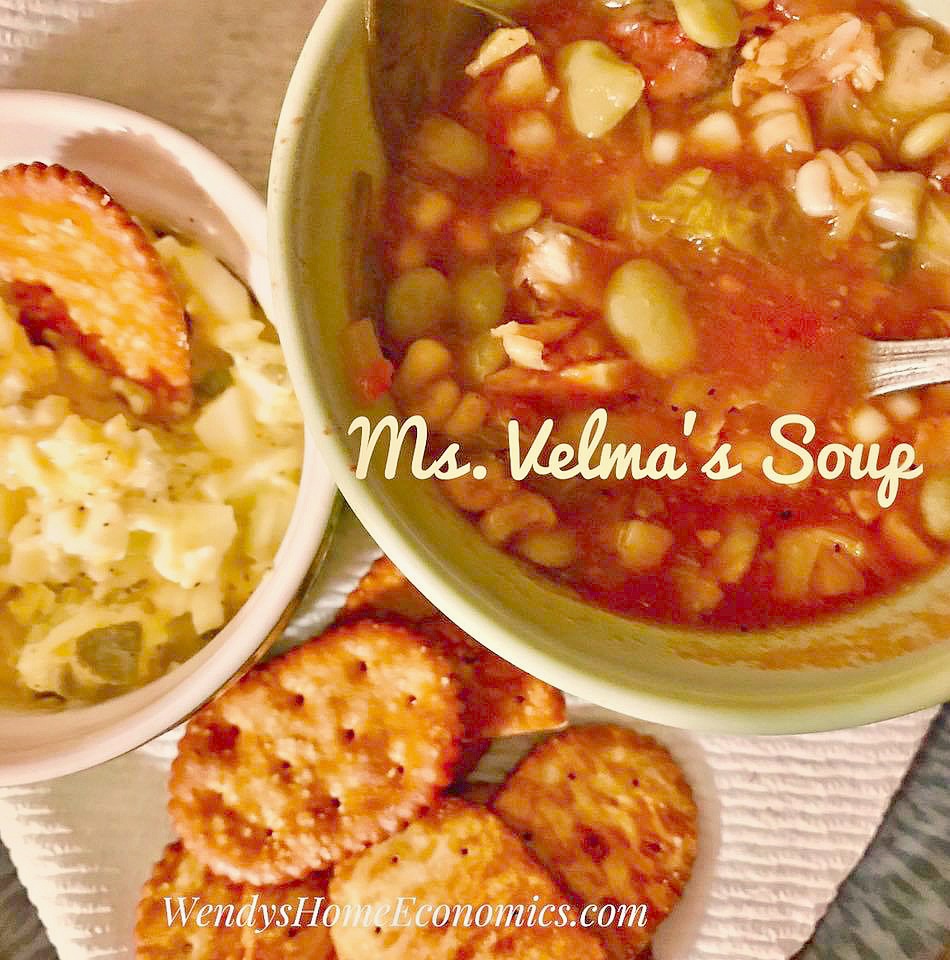 Ms. Velma Faison was a kind and reserved landlady of mine years ago when I lived in her and Mr. Thomas' basement apartment. She made the BEST soup… just simple, but with my favorite things in it…
so although I could "see" what was in it, I asked her one day how she made it. She was surprised… said "oh it's nothing special… it's just soup."

To me, some vegetable/meat soups just have too MUCH stuff in them… and I think that is why I like her soup so much… Because it's rather basic and doesn't have every vegetable in the garden in it. For soup, less is more for me. I'm a white corn gal… just seems sweeter to me.  I prefer chicken over beef in my soup too.
Ms. Velma passed away several years ago, but her soup, as she told it to me, lives on… my version without her special loving touch.
I do keep a soup scrap zippered bag in the freezer for other soups… (can't stand to waste food!), but when I want just good basic comforting soup… this is what I make.
Those that know me well know that recipes like this are rarely exact nor do they need to be. So here are the ingredients and approximates best I can offer!  Just throw-cooking at its finest.
You can make this on the stove top in a soup pot, which I usually do, or like my latest batch, in a crockpot while hanging around the house on a rainy day. I cooked this slowly all day in my 6 quart crock pot that was full to the brim so I ended up with about a gallon and a half of soup… Enough to freeze several pints for myself and share some with others too.  
This is a great food gift to give as "funeral food" too.  Rather than take the easy way out and go get another box of chicken to add to the ones already given, reach into your freezer and take some delicious soup!  Your friends will welcome the change and they can enjoy it then, or in coming weeks as the dust settles.
I love egg salad with crackers or sandwich with this soup!
Come on by my facebook community and tell me what you think. 
Ms. Velma's Soup
This simple soup is my favorite when I was just good homemade soup. I prefer chicken in my soup, and just a few veggies. You can make on stovetop, or low and slow in your crock pot too. Nothing is exact here... measurements are just close guesstimates.
Ingredients
1

whole chicken, or lots of leg quarters (I prefer mostly dark meat in my soup)

2

28 ounce cans

crushed tomatoes

a couple

large onions,

diced

about 1 ½ cups

white corn

about 1 ½ cups

butterbeans

4-6

cups

thinly shredded cabbage

salt and pepper

a little bit of sugar to take the edge off the tomato acid
My 2 personal ingredients:
1

15 ounce can

creamed white corn

2-3

stalks

celery,

diced
Instructions
Bring to boil then simmer chicken in several (3ish) quarts of salted water. (white and dark) for broth. (If doing in a crockpot, you will want to simmer your chicken for quite some time for it to be done. Cut whole chicken into smaller pieces so it will cook faster.

Using slotted spoon, remove chicken to cool. Once cool enough to handle, debone, skin and shred chicken.

After removing chicken, return to rolling boil and add remaining ingredients except sugar. Let simmer until nice and rich and flavors marry.



Towards the end, add the sugar in little bits at the time until you have the acid balance you like!
Notes
Although you can use parts, a whole chicken will give way more flavor from the skin and bones (that you will discard). Legs and breasts are fine, with skin and bones. Just be sure to use chicken with skin and bones for all the flavor that offers!
I have used Brussels sprouts a few times when I had those and didn't have cabbage.