So I see that today is #NationalPieDay!  We can't let that slip by without a pie can we?  I meant to post this before Thanksgiving… but, oh well!  And let me just say right here that this pic was way long ago, when I don't even remember WHAT I was taking pictures with and knew n.o.t.h.i.n.g. about food styling… and one day, I'll make and reshoot this pie… but till then… we'll live with this thing!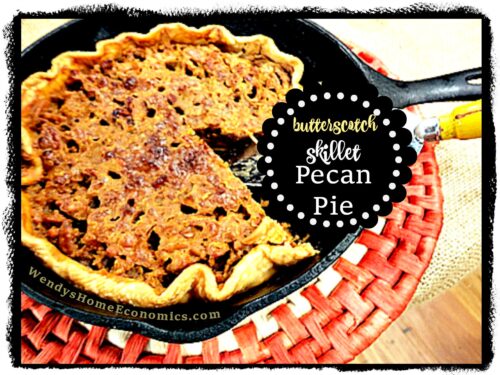 Way back when, I used to be a frequent guest on the local My Carolina Today Show. I always had so much fun with Sharon and Valonda…
producer Kim, and all the crew behind the scenes.  Way back in 2011, I was on their show with some fun ways to give a twist to thanksgiving… you can read all about that and recipes here!

I shared this pie then, but not in a printable format… so I'm giving this one a 2nd time around.  
It is such an easy pie to make for such a big bang!  You can make in a "normal" pie plate, but I like the rustic touch from making in a cast iron skillet.  This Butterscotch Skillet Pecan Pie is only made better if you also take a minute to make some sweet 'tater and molasses ice cream to plop on top.  You can even blend in leftover sweet potato casserole to make the ice cream more better!  No picture of that for now… 
So, check your pantry and see what's missing to make this pie. A good southern stocked pantry probably already has everything you'll need!
Once you've made, come and add your comments in my facebook community!
Butterscotch Skillet Pecan Pie with Sweet Potato Molasses Ice Cream
This is such an easy pie to throw together... and you might already have all you need right in your pantry. Make yourself a Butterscotch Skillet Pecan Pie today!
Ingredients
1 ½

cup

North Carolina pecan pieces

2

tablespoons

flour

3

large

local fresh eggs,

beaten with whisk till slightly frothy

1

11 ounce bag

butterscotch morsels

½

cup

brown sugar

1

stick

butter,

melted and cooled

1

teaspoon

vanilla

1

unbaked pie crust,

store-bought or your own
Instructions
Spray 10"-12' cast iron skillet; place crust into prepared pan.  It will naturally 'ruffle' as shown in picture.

In medium bowl, mix pecan pieces with flour. Add remaining ingredients and mix well.  Pour into pie shell and bake 350* for about 40-45 minutes.

Let pie cool before slicing as it is easier to cut at room temperature.

MAKE AHEADSweet Potato Molasses Ice Cream (not shown): Soften 1/2 gallon of vanilla (or butter pecan) ice cream. Blend in cooked mashed sweet potato (about 1 cup) and about 1/2 cup molasses. Refreeze until serving time.

Note: A bit of cinnamon added to sweet potatoes or ice cream doesn't hurt a thing! You can even used leftover sweet potato casserole in the ice cream!