Monthly Archives:
November 2017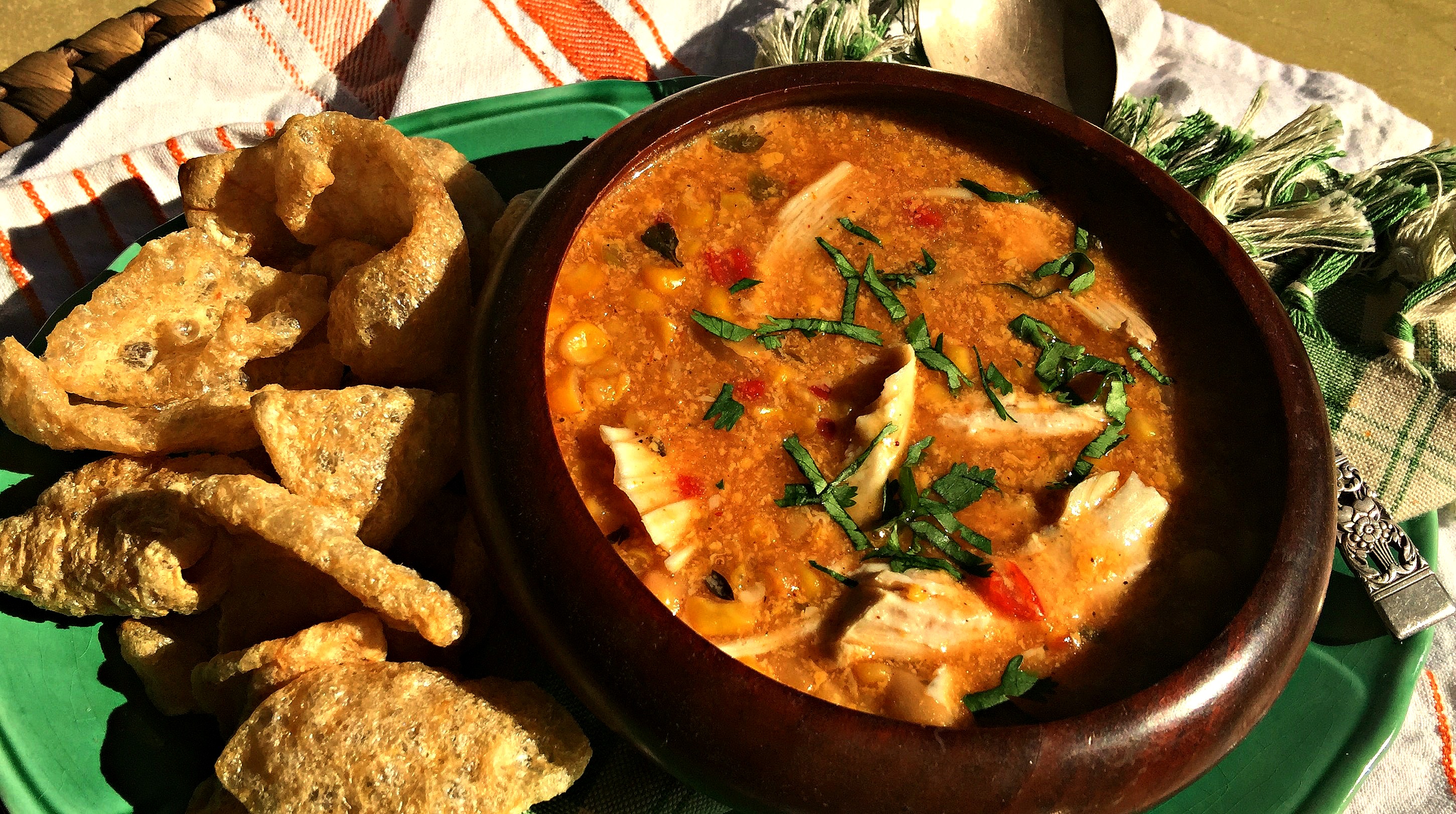 Well here we are, just like that ~ looking at Thanksgiving 2017 in our rear view mirror. Did your grandmas tell you too, that "the older you get, the faster the days and years go by?"
To be honest, I don't have any leftover turkey at my house. This year, my little family decided to do pork instead… since we never have been big on turkey. And we aren't even doing our Thanksgiving meal until tomorrow (Saturday). We even did something outside our box and went OUT to eat for early supper yesterday on Thanksgiving… at an Italian restaurant! And liked it. And decided we might keep up this new tradition henceforth.
They only offered a buffet, but goodness gracious, you cannot believe all the food on the tables! I declare, if folks couldn't find something there to suit their fancy, they needn't be eating. The word "bountiful" comes to mind as there were platters and chafing pans filled to the brim with Italian creations… right alongside traditional southern Thanksgiving favorites like dressing and sweet taters.
And there were seafoods, fishes, prime rib, ham and yes, turkey! I suppose they might have some sort of soups on their menu the next few days too, which is a great way to give lurking turkey (and whatever else) a new life!
Earlier this week, my friend Heather Overton at the NC Department of Agriculture asked if I had any last minute ideas for such to feature on their blog, and well, of course I do! Waste not want not around my kitchen, and not often is anything thrown out. I love the challenge of "repurposing" food… bones, scraps and trimmings. I can and will make soup from just about anything… no two pots ever the same. I gift most of the soups I make since I just can't eat it all! As it turns out, this tasty soup can actually work as a dip as well and a really fast way to throw together a simple meal so you can enjoy more family time this weekend.
So plug in that crock pot and enjoy… feel free to "color outside the lines" of the recipe and add in leftovers you have that will add more layers of flavor to your soup… or adjust the seasonings for your taste. Serve with crunchy pork rinds or cornbread and you're set to head into the Christmas season… ready or not!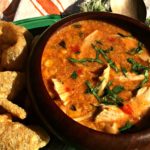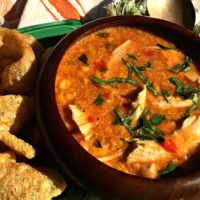 Blushing Turkey Soup
Looking for a way to enjoy your leftover turkey after the Thanksgiving feast is over? Enjoy this recipe featuring leftover turkey, George's BBQ sauce and pork skins. If you don't have George's, simply substitute your favorite sauce to "blush" your soup.
Course:
Brunch, Main Course, Soup
Ingredients
1

15 ounce can

white beans (navy, northern, etc.), drained

1

14 ounce can

creamed corn

1

11 ounce can

Mexican corn

3/4

cup

George's Original or Hot Sauce

1/2

cup

George's Special Sauce

about 3

cups

turkey or chicken broth

about 4

cups

shredded turkey

1/2

teaspoon

garlic powder

1/2

teaspoon

onion powder

1/2

teaspoon

dried oregano

1/4

teaspoon

poultry seasoning

1/4

teaspoon

cumin

1/4

teaspoon

chili powder

1/4

teaspoon

black pepper

salt to taste

1

8 ounce

cream cheese

4

cups

grated cheddar cheese

freshly chopped cilantro
Instructions
Throw all ingredients through salt into crock pot. Heat on high until nice and hot, or if you'll be out and about a while, just turn on low. About 20-30 minutes before eating, stir in cheeses and melt. Ladle into mugs or bowls and scatter with cilantro. Serve with skins, cornbread or dressing.



Recipe Notes
NOTE: If you want to serve this as a dip, leave out the broth to make it thicker. Add in small amounts until desired thickness. Scoop with skins or chips.
Being that today is "National Doughnut Day," seems fitting to share one of my Krispy Kreme Kreations with you.
It just so happens that my lastest, krunchy Cinnamon-Butter Krispy Kreme Kroutons, is one of four North Carolina food icons I got to blab about in the November issue of Carolina Country Magazine. I chose Krispy Kreme as one of the four for a couple of reasons. For starters, when talking about iconic foods here in North Carolina, KK is at or near the top of any such list. KK is also celebrating a milestone birthday this year… their 80th! I even made this scrumptious sundae with KK Kroutons and Kookies to celebrate.
I've been making these blissful little krouton morsels for years, just never got around to sharing until now! You can make 'em in no time flat, but be warned.
Nobody can eat just one, or 10, so make a big old mess of them! Folks love to munch on "kroutons" right out of the bowl, but I enjoy on top of Ma Perry's Boiled Custard, a Perry family tradition that started before I came along… a long time ago.
I do hope you will make some kroutons, and come back to let me know what you think… I'm pretty sure you will be the Kueen if you serve up a pile of these sometime soon.
Don't you think KK should bag my kroutons too?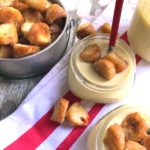 Cinnamon-Butter Krispy Kreme Kroutons
Krispy Kreme "Kroutons" are a fun treat by themselves, but floating in boiled custard to enjoy at the bottom of your cup is good, too!
Ingredients
6

Krispy Kreme Doughnuts,

1

stick

butter.

melted

3/4

teaspoon

cinnamon
Instructions
Using kitchen scissors, cut each doughnut into 12 "coins." Spread cut pieces out on baking pan and let air dry, uncovered, overnight.

Preheat toaster oven or oven to 350 degrees. Melt butter in microwave and stir in cinnamon. Toss "kroutons" in bowl with cinnamon butter. Bake about 5 minutes, tossing as needed, until golden brown.

Cool and store in airtight container.
Recipe Notes
Variation... Instead of cinnamon, use other spices or blends, like Apple Pie or Pumpkin Spice.
So, what are your ideas for using Krispy Kreme Kroutons?
Do tell…