Monthly Archives:
September 2011
September 22, 2011
Posted by Wendy Perry

under

bacon & belly, cook & eat nekkid, cook'n with NC goodies, crock pottery, slow cook'n & instant pots, fish & shellfish, Mindless Mutterings from the Teacher's Lounge, nekkid-throw cooking ~ what is THAT?, soups, stews, chilies chowders and such, sweet potatoes, turnips, wendy's signature recipes
I'm a "throw cooker."  What does that mean?  Well, that means I throw stuff together to create good food and teach others how to do that too.  It's pretty simple and just not that hard to do.  Folks often ask me to share a 'recipe,' which is challenging, because I don't use them per se.  I do try now to 'throw' something on paper as a guide because I do love seeing others take my creations and make them… which is what you'll find below today.  So much of what you'll see from me are concepts… ideas I have in this crazy head of mine I just go in the kitchen to make and see what happens!
Some of my best dishes are those where I simply open the fridge and see what bits and pieces of stuff I need to use and get out of the way in there.  I usually share these creations because there's just no way I can eat all the stuff (and why I've turned into my grandma and 'hoard' and recycle food jars!)… sometimes folks want "some more of THAT," but these unique creations can never ever be exactly replicated again…
This gal can't stand waste so you're likely to occasionally see me throw something out here with ideas or ingredients that make you go…  "do WHAT?" I keep a soup pot in fridge or freezer for soup days, and nothing is thrown out or composted without first pondering whether or not it's fodder for 'the pot.'  A perfect example in this recipe is slaw!  Lordie, never throw out leftover slaw…. it's just cabbage, and maybe a little mayo and/or mustard… so what if there's a little pickle relish in there?  That's just cucumber, a vegetable. Cabbage always adds another layer of flavor (and that's what we want to do when cooking… add layers of flavor till it tastes good).  Folks g.a.s.p.  at the sight of seeing me throw slaw into the soup pot… but just about every time there's some slaw in a soup I've made, those are the concoctions that get the biggest rave reviews… so let slaw be one of your secret ingredients too!
Like most 'throw together' dishes, this chowder doesn't need meaurements.  That's what THROW COOKING is all about… Cook'n what 'cha got! And my mission in life is to get those of you who 'think' you need recipes outside of your comfort zone and turn YOU into throw cookers!  I dream of creating a posse of TC's across the nation… fearless folks who "cook what 'cha got" with nary a written recipe in sight!  What's the worst thing that can happen?  You mess up one pot o' food?  And that is so RARE, since something can always be done/added/tweaked to make something edible.  The exception to this is burnt food… and nothing you do will make that fit'n to eat.
As for this Clam Chowder, you can delete any of these things or add stuff (such as carrots or other veggies, other fish/seafood, etc.) to make a wondermous "pot o' something!"  Open your fridge, take a look around at the bits of this and that you would like to get outta the way,  and do the same in the pantry. Throw that stuff into your crock pot while cleaning up supper and throw in the fridge.  In the morning while your coffee is perk'n, plug in your crock pot, turn it on low and come home to a home perfumed with something mighty good.  Add a salad (or not), some cheese toast, cornbread, crackers or even Nabs…. crawl into your lounge-y clothes and make your family's tummies happy… supper's done in the 15 minutes it took you to throw all this stuff in a pot the night before…. now doesn't THAT sound delicious!!
"It's Fall Y'all Clam Chowder"
Recipe by:  Wendy L. Perry, Inc. ©
Feel free to share with credit please.
*Be sure to think/shop/buy/support LOCAL folks and your local economy whenever possible!  There's probably a farm near you where many of these ingredients, from the veggies to the bacon, can be had.  It's a 'good habit' to get into… thinking ahead a bit and just takes a little "re-programming" a new shopping normal in the beginning, but once you're there, you'll remember just how wondermous fresh food from minutes away tastes instead of oceans and continents away!
INGREDIENTS: (in this particular batch)
large sweet potato — diced
few slices bacon, diced
couple stalks celery with tops, diced
part of a red pepper, diced
few cloves garlic, chopped
a couple of small turnips, peeled and diced
sweet onion, peeled and diced
leftover slaw (or diced cabbage)
salsa (and/or crushed tomatoes)
…i had some tidbits of salsa in the fridge i wanted to get outta my way, one of them was a salsa with habanero, so today's chowder has a little WOWza to it
tall can creamed corn
canned clams, or fresh if possible (a can or two per your preference, undrained)
clam juice, clamato juice, tomato or V8, broth (chicken or vegetable)…your choice of what's on hand
…i didn't have any clam juice on hand today (but put on shopping list), so i threw in some chicken broth i had stashed in the freezer
seasonings
…today, i used some Tomato Powder and Homestead Seasoning from a favorite place to shop in Raleigh, Savory Spice Shop (link below).  Other seasonings that work well in chowder are thyme, oregano, Old Bay or just whatever your family likes!
barbecue sauce
…i have a lot of tidbits of this, that and the other sauces in my fridge, because i'm a sauce junkie… putting some of this in the chowder just adds another layer of flavor
Throw all ingredients into a crock pot.  Turn on low and let this slowly simmer all day till you come home from work.  My crock pot decided to DIE on me today when I put this in, so I dumped into a stock pot, brought to boil, then cut back to slow simmer for about 30 minutes for some REAL 'fast food!'
Total time from start to eat if done on stove-top… less than an hour!  Good old simple food… food the way God meant it to be enjoyed… Nekkid!
This is the chowder go'n in…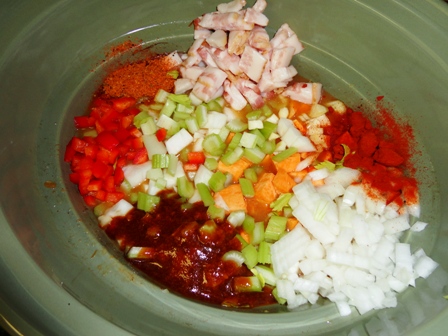 …and the seasonings I used from Savory Spice Shop in Raleigh... drop by and tell Cindy I sent you!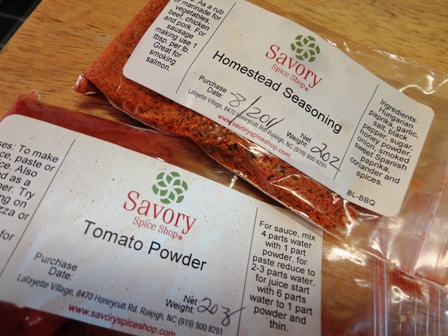 See if there's a Savory Spice Shop near you here!
I hope this inspires you to peek into your fridge and see what YOU can 'throw' together! And when you do, please come back and share with us all…
HAPPY FALL Y'ALL!!!  now git in the kitchen and"Throw" somethin' in a pot…
Print "recipe" here!
Oinkers!! …"South In Your Mouth" skillet Barbecue Drop Biscuits
with BBQ Gravy Dip ©Wendy L. Perry, Inc.
(feel free to publish and share with credit please)
Recipe By: Wendy Perry
Yield: About 4 dozen snack-size biscuits.
For the whole Biscuit Day story… scroll on down below this post!
It's tailgate time, and all across America, particularly around the south, that means it's time to EAT…BARBECUE! Stadium parking lots are bustling with football fanatics who need tasty, yet quick and easy treats for themselves and guests. BBQ restaurants thrive and the long lines of "tailgate traffic" waiting for drive-through BBQ has already begun. BUT, if you swing by your local BBQ establishment the day or two before game day, you can toss these biscuits up faster than you can sit in that line on your way to the game… and grin as you zip on past those folks on your way to your pigskin party! Oinkers! are the perfect nibbler to pair with your favorite cold beverage and much easier to juggle than a sandwich, not to mention way more fun to eat. These are great warm or at room temp too… (just be sure to throw in your cooler during game time for safe post-game bites, IF you have any left.) Instead of messy BBQ sandwiches, surprise your tailgaters with these tasty alternatives… with bread, bbq, slaw and sauce IN the biscuit bite…with some BBQ Dip'n Gravy on the side! Great for skillet camping too! Happy Fall Y'all… and GO (insert fav Team here)!
OINKERS

Biscuit Ingredients
2 cups NC's Midstate Mills Southern Biscuit® Formula L Biscuit Mix
1/2 cup buttermilk
1/4 cup vinegar based BBQ Sauce (eastern NC Style-I use George's)
1 teaspoon crushed red pepper (or to taste)
1 Tablespoon sugar
1 pinch salt
few dashes black pepper
few shakes hot sauce (NC's Texas Pete preferred)
1 1/4 cups firmly packed eastern NC barbecue, snipped with scissors if in big pieces
2/3 cups chopped slaw (yours or purchased)
BBQ Gravy Ingredients

1 bottle of your favorite vinegar based BBQ Sauce-I use 1/2 George's original and 1/2 George's Special sauces
1 Tablespoon brown sugar (if using a BBQ sauce that has no sweetener)
OR…use one of our many great "Western NC Style BBQ" sauces for a thicker dip!
To make BISCUITS:
Preheat oven to 425. Place cast iron skillet into oven to preheat.
In mixing bowl, combine all biscuit ingredients. Gently fold mixture until blended. Drop by heaping teaspoon size mounds onto hot greased cast-iron skillet. Mounds should be near, but not touching each other. Quickly place skillet back into oven. Bake about 9 minutes until tops are lightly browned.
To make GRAVY:
Pour 1 bottle of your favorite vinegar based BBQ sauce into heavy-bottomed saucepan. Bring to a boil; reduce to rolling simmer and continue cooking until reduced into thick sauce. Or, use your own recipe and reduce as well. If you use a sauce with little to no sweetener in the ingredients, add about 1 tablespoon per bottle (or per 1-2 cups of sauce) of any one of the following:
Honey
Brown sugar
Molasses
Serve biscuits, warm or at room temp, with BBQ Gravy in bowl for dip'n!
©Wendy L. Perry, Inc. (feel free to publish and share with credit please
For printable recipe, click here!

September 19, 2011
Posted by Wendy Perry

under

appetizers, baking (she said in terror), barbecue or is it BBQ?, contest creations, cook'n with NC goodies, feastivals & festivals, here piggy piggy!, Mindless Mutterings from the Teacher's Lounge, nekkid-throw cooking ~ what is THAT?, wendy's signature recipes
The world's slowest blogger and quintessential non-baker took home 1st Place last week in the 1st Annual "Best Southern Biscuit®" Contest at the 2nd Annual Midstate Mills Biscuit Day over in Newton, NC! Come along and experience the day, the WHOLE day… in this Culinary Adventurist's "Southern Biscuit Day" journey. This is a story about biscuits, yet so much more… living a delicious life with obsessed old foodie friends… sharing food, fellowship and culinary history with new ones… making new culinary memories with all those folks… and being blessed enough to live another day to tell about it to folks like you here reading this tale. Fix yourself a jar of sweet tea and come on along…
My friend Jody Currin of Mrs. Picky's Biskits and Marmalades (and 3rd place winner of this year's International Biscuit Festival) and I never miss a beat when we set out on our next adventure… and we weren't about to disturb that trend on this trek…we meet the most interesting folk along our way at the backroads junktique and antique stores we swerve into! And we see some of the dangdest things… I just have to share this quick sighting here before moving on to biscuits… because in all my galavanting, NEVER have I seen a drive-up window at a hoochie coochie lingerie establishment, until now… and even though it was dark-thirty when we left our hotel and headed to Biscuit Day (just 9 miles away because we were both so giddy and 'cited to go there and because Jody beds down at 8pm and is up by 4am!), I insisted Jody stop the truck so as to photograph this unusual phenomenon! Turns out the fellow at the hotel desk was intrigued as well to see the installation of a drive up window when they all knew there at the hotel what kind of store was soon to open… so in Hickory, NC, one can peruse the online store of this here place, order… and just drive up…never needing to grace the inside of said store!
Now don't that just beat all??? And here's proof…
Hoochie Coochie Drive Thru Window!
So…on to BISCUITS!
Downtown Newton, NC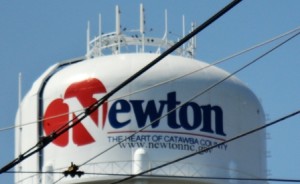 was all aflutter as folks from Midstate Mills were busy sharing their biscuits with town folk and others like us who made the pilgrimage… to b.i.s.c.u.i.t.s.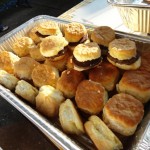 ~ Lotsa Midstate Mills biscuits… these filled with Neese's Country Sausage! About 1600 biscuits were devoured and on hand to fill them were folks from Neese's… and that cute and bubbly Andrea Neese you see in their TV commercials… and also a sister Home Economist!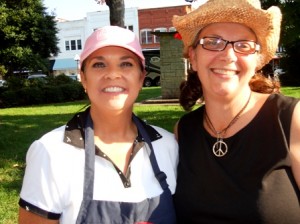 Andrea and her folks were cook'n up sausage, liver mush (that went first!) and bacon as the perfect fill'n for all those biscuits!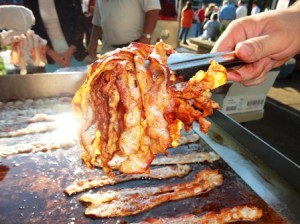 Sooooo…
as Midstate Mills Baking Expert Belinda Ellis started talking about all the entries and announced 3rd, then 2nd place winners, she started hinting around at the winning recipe… said that at first glance of the recipe and ingredients, she thought them to be rather odd… and quite frankly, didn't look very appealing. BUT, having made them and other recipe entries for her panel of chefs and foodies to try, my "OINKERS" quickly disappeared and they asked her to make MORE! When she started saying that this recipe included chopped barbecue, slaw and Eastern NC vinegar-based BBQ sauce in their Southern Biscuit Formula L mix,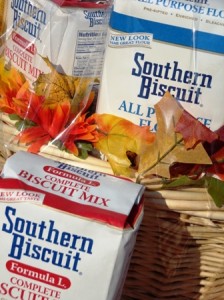 I turned to Jody (professional biscuit maker!) and said something to the effect of… "OMG, that's MY recipe!" Having a reputation for being THE non-baker amongst my cheffy friends, not only did this increase my giddyness level, I just HAD to snicker a little… what better poster child for the product and how easy it is to create with it than with little old ME throw'n together creative (and winning) biscuit concoctions??


In addition to being totally surprised by this accolade, I met the greatest folks in Newton… Midstate Mills is now welcoming its 4th generation into this family business… and from the founder's granddaughter Cindy Gabriel
to other folks like John Craig, who produces the International Biscuit Festival in Nashville, TN, the people were just the "butter on the biscuit!" I also had a fun chat with Tim and Jan
about their Southern Fresh Show on the RFD-TV Network… a culinary and gardening show filmed entirely here in North Carolina! Their show airs on Mondays at 4:30EST, so tune in…
Biscuit makers are a friendly lot and hearing the stories shared at MM's 2nd Annual Biscuit Day by well-seasoned ladies and gents there was very humbling and I felt like I should relinquish the win to those more experienced than me-self… their Biscuit Tales need to be preserved as does the art of biscuit making!
As the festival concluded we enjoyed lunch across the street at Callahan's Cafe where I satisfied my cheeseburger craving and Jody (and I) enjoyed the house special "Chicken Pie."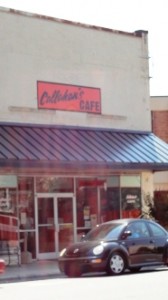 We then strolled a block away where a few of us were treated to a tour of the lab, testing kitchen and mill by yet another sibling… where I was outfitted with my "Tour de Couture" loverly paper shoes (since this flip-flop wear'n gal didn't have any "closed toe touring shoes" in her bag)!
As our day ended and we headed back eastward and home, our journey couldn't simply end there… and somewhere 'tween Greensboro and Liberty, sumthin' happened to Jody's truck… smoke was fly'n out the tail end like an oven full of burnt biscuits…so as we're so good at doing, swerved OFF the highway onto a side road, jumped out of the truck and scurried up the hill (till we heard a fierce barking dog). Possible Exploding Truck Fire?… or dog bite in the rumpus… tough decision! We thought for sure the truck was on fire… and at this writing I'm not sure what it 'twas… but we met the kindest locals on the side of that road in the THREE HOURS we spent there… SO typical of fellow North Carolinians… and this story just wouldn't be complete without thanking these strangers…
First, Highway Patrol Officer Pike, whose family owns the farm up the road where the annual Liberty Antique Sales are held…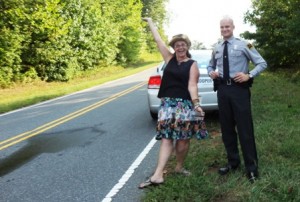 and who hung with us (and our diesel splattering there to the left) until he had to tear off and chase a drunk driver somebody was tailing down that road… and who also managed to move the truck out of the middle of the road (since after we jumped out and made our get-away, it wouldn't crank again)…. then, this fellow in the bright green shirt who works for the Town of Liberty, (name unknown) whose daughter came by right after our "incident" happened and sent him to help us…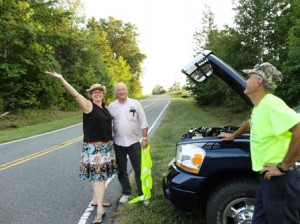 and some time (a lotta time) later… Mr. Tow Truck Driver there with me… a most welcomed sight, second only to Jody's hubby Mike arriving from an hour and a half away in Erwin to take us Biscuit Queens homeward bound!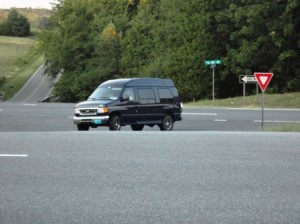 And never one far away from cookbooks… Jody managed to snap a shot of me…during our 'detour' home… "ditchside," reviewing cookbooks for the "Carolina Cooking" features section for the beautimous Our State Magazine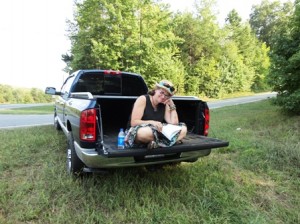 where I do food styling and recipe development… with hundreds of books to review to make just the right selections this gal NEVER leaves home with out a sack o' cookbooks! 'Cause I was a Girl Scout…always prepared!!
Reflections… Winning this contest is such an honor I will forever cherish and is a 'culinary feather in my cap' I feel so blessed to have… but with such a wondermous product as Midstate Mill's Biscuit Mix (just one of their many great goodies), anybody, and I mean ANYbody can make biscuits…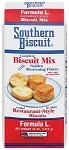 fast as you can open a can and bang it on the counter before your oven is pre-heated! Go get yourself some today and see what fun biscuits you can stir up… and while you're at it, find a kiddo and let them help!
This product is PERFECT for getting little ones involved in the kitchen… and it's high time we all do that…
teach a child to cook and show them what REAL food is all about!
Now, go make some biscuits y'all Printable recipe right here…